NOSOUND
Nosound is a one-man studio project and a band, started in late 2003 and based in Rome (Italy) by Giancarlo Erra (born in Rome 26/7/78). The music is evocative and intense, with personal and narrative songwriting. Influences go from Pink Floyd to Brian Eno, from Porcupine Tree to Fripp Soundscapes, passing through rock, electronic/ambient and postrock.
Giancarlo run first a Porcupine Tree cover band called Redshift ('03).
Nosound live lineup band :
Giancarlo Erra - vocals, guitars, keyboards
Paolo Martellacci - vocals, synths, keyboards
Alessandro Luci - bass, upright bass, keyboards
Mario Damico - drums, percussions
Gabriele Savini - acoustic guitars
He made some demo's and promo's.
Sol29 ('05) is the first real album and is a "must have" for every Porcupine Tree, No-man & Blackfield fan.
Giancarlo Erra - vocals, guitars, keyboards
Alessandro Luci of Redshift - bass
Wonderful spacy atmospheres with a big wink to the "Welcome To The Machine" sound of Pink Floyd and as mentioned before to Porcupine Tree ("The Sky Move sidewalks" sessions). Absolute a wonderful production and one of the most promissing new bands.
Highly Recommended!
Listen to Red Song, At The Habour,
or watch: them live.
A DVD with unedited material will is released in May 2006 and a new album is underway for the end of 2006, featuring important collaborations like Tim Bowness (from No-Man) and others. Preorder available!
Together with Tim he did two gigs, one as support act for the unbelieveable Tony Levin band.

What a beautiful cover...

At the end of April NoSound did two gigs with Tim Bowness. Giancarlo wrote: "...we played before Tony Levin in an Auditorium ... very enjoyable situation."

News 26th of May 2007:
Giancarlo is involved with a review of On an Island, see this page.
With members from Pendragon, Mostly Autumn, Magenta and others....

Lightdark ('08).
Will be his new album.
Giancarlo Erra - vocals, guitars, keyboards,
Paolo Martellacci - keyboards, vocals,
Gabriele Savini - acoustic guitars,
Alessandro Luci - bass,
Gigo Zito - drums,
with;
Tim Bownes - vocals,
Marianne de Chastelaine - cellos.
Again a beautiful ambient spacy production, without becoming boring. On the contrary; the album is adventurous, full of sounds that only can be heard after a few listenings. Nice guitar work in the vein of Steve Wilson and David Gilmour. Spoken words and the cello gives some songs an extra dimension. So i got lost in those psychedelic soundscapes and ended in a happy warm trance. Music that needs a careful and complete listening. Some people will say that a minor point is that tis album could be a clone of Steve Wilsons ambient work. I prefer to say that Giancarlo has made a wonderful amazing production and that he's indeed influenced by Steve Wilson, why else you would call your band NoSound?!? But this gifted young man has added his own unique style and made a very fine album. And by the way; Tim Bownes (known from NoMan; a side project with Steve Wilson) is present on this album too. Check out this promising guy Rome!

A Sense Of Loss ('09).
The new album of this Ialian mastermind.
Giancarlo Erra: vocals, guitars, keyboards

Paolo Martellacci: keyboards, vocals

Paolo Vigliarolo: acoustic guitars

Alessandro Luci: bass

Gigi Zito: drums, vocals

Fantastico! Quiet non-tempo songs sometimes layered with unbelieveable slow atmospheres that can and will catch your breath. Ambient, but a-live and touchy. Think Steve Wilson and Richard Wright would love these songs that fill the albums with a softe sense of absolute great prog. This is a glorious advertisement to become one of the best albums of 2009. Giancarlo and his friends know how to create sonic landscapes.
9+ out of 10~.


NOSOUND: Kscope are to reissue a deluxe version of Nosound's 2005 debut album, Sol29...

Expanded to a 2 disc set (CD/DVD), this edition is packaged in a super jewel case with slipcase and features new and revised artwork in addition to the original booklet.

The audio CD features digitally restored and analogue re-mastered audio of the original album, plus three extra tracks, while the DVD includes a new video for the track Sol29, plus the original 2005 album mixes, and three ambient audio/video tracks previously included on The World Is Outside DVD-R.

This is the definitive Sol29 edition and collects all of Nosound's early studio material.
Disc 1 - Sol29 (Remastered)

01. In The White Air (6:57)
02. Wearing Lies On Your Lips (4:20)
03. The Child's Game (2:46)
04. The Moment She Knew (9:38)
05. Waves Of Time (2:07)
06. Overloaded (6:13)
07. The Broken Parts (6:24)
08. Idle End (9:43)
09. Hope For The Future (5:57)
10. Sol29 (10:02)

Bonus Tracks

11. Idea 14 (3:24)
12. The Red Song (3:57)
13. The World Is Outside (5:11)


Disc 2 – DVD | Visual & Audio

Original Sol29 mixes: Entire Album.

Videos :

01. Sol29 (10:02) (short film)
02. Contemplating Neptune (3:01)
03. Contemplating Mars (2:37)
04. Contemplating Moon (3:23)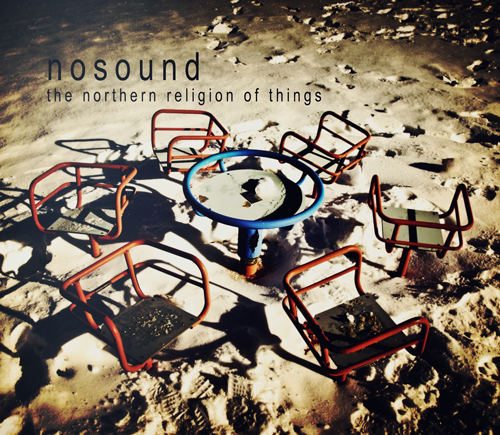 . A new album of radical re-interpretations of Nosound tracks. The Northern Religion Of Things was recorded during the rehearsal process for a unique one-off 'Nosound solo' gig that Giancarlo performed in London in August 2010.
For this intimate gig, Giancarlo created new arrangements for several classic Nosound tracks using a live setup that enabled him to play keyboards and/or acoustic guitar while also singing and recreating sounds and effects from the original studio albums. No backing tracks were used, only triggered loops and played instruments.
Available now for preorder, in normal edition and special limited edition fans package (only 200 available!) including:
1) The original CD (in jewel case with slipcase, plus 12 page photographic booklet and extended liner notes)
2) A6 (105mm × 148mm) high quality signed sticker featuring the album cover.
3) Four square badges (40mm x 40mm) featuring the album covers of the 4 Nosound studio albums.

Nosound are currently working on their new album, which will be released in early 2013. Ahead of this release comes At The Pier, a new EP which features three brand new tracks (Oct 2012).
For the tracks Nosound are joined by Marianne De Chastelaine on cello and Chris Maitland, formerly of Porcupine Tree and Blackfield, on drums. Chris, who will be playing on all of the tracks on the new album, adds a new dimension to the Nosound dynamic through his powerful and inventive drumming as frontman Giancarlo Erra explains when describing the tracks that make up At The Pier:
"In general I would say that The Anger Song is a more rough and bleak piece than the usual Nosound, probably even more powerful and indeed 'angry'. A New Start is more Nosound but almost uplifting in a melancholic way, majestic in music with more twisted lyrics, with a mix of blues and postrock all packed into one song. Two Monkeys is based around piano, upright bass and sampled strings, with deep meaningful lyrics for a piano song of a different kind than the previous Nosound piano songs. It also features Marianne de Chastelaine's cello".
NoSound Home Page.
---
SESSION:
GianCarlo did session for Stefano Panunzi.

Memories Of Machines - Warm Winter (16th May 2011).
Warm Winter is the hugely anticipated debut album by Memories Of Machines, the new project from Tim Bowness (No-Man) and Giancarlo Erra (Nosound).
An assured and emotionally cohesive debut, Warm Winter ably highlights the sympathetic musical chemistry between Bowness and Erra, and includes stellar guest contributions from the likes of

Peter Hammill (Van Der Graaf Generator),
Colin Edwin (Porcupine Tree),
Robert Fripp (King Crimson),
Steven Wilson (Porcupine Tree, No-Man etc),
Julianne Regan (All About Eve),
Jim Matheos (OSI/Fates Warning) and
Huxflux Nettermalm (Paatos).

The album, which is available as a digi-pack cd and a limited edition heavyweight vinyl release, was mixed by Steven Wilson and mastered by Jon Astley (The Who, Led Zeppelin, Tori Amos).
Info and orders - www.memoriesofmachines.com
Exclusive Grant Wakefield promo video - promo YouTube.

Home again.


Updated 010912 by Nick.


www.mostlypink.net